Print out this Seder plate for your coloring enjoyment. The foods are arranged as a symbolic representation of the exodus from Egypt. Cheer on the Israelites and boo at the Pharaoh as history is made. You can relive your favorite moments with the help of this super coloring page.
Click on the thumbnail to open the coloring page in a new window.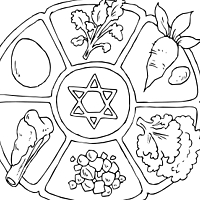 More posts like this one in
Printable Fun
.