When the Holy Spirit passed through Egypt, all of the Israelites painted their doorways with lamb's blood to protect their first born sons. Last time I painted lamb's blood on our doorway my mom got really mad at me. The moral of that story is that you should always ask mom first. Ask about printing out this coloring page, I bet she'll say yes!
Click on the thumbnail to open the coloring page in a new window.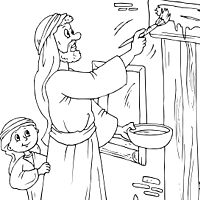 More posts like this one in
Printable Fun
.