Move over Batman. There's a new crime fighter in town. His name is Matzoh and he protects the weak and hungry, the poor and disenfranchised. Matzoh-Man is every man's man and we love him, man! You can invite Matzoh-Man to your Passover by printing out this PDF coloring page. Matzoh-Man to the rescue!
Click on the thumbnail to open the coloring page in a new window.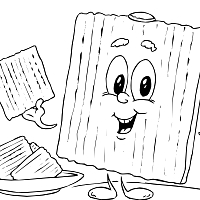 More posts like this one in
Printable Fun
.